Part 1: Ensure your Clips are Downloaded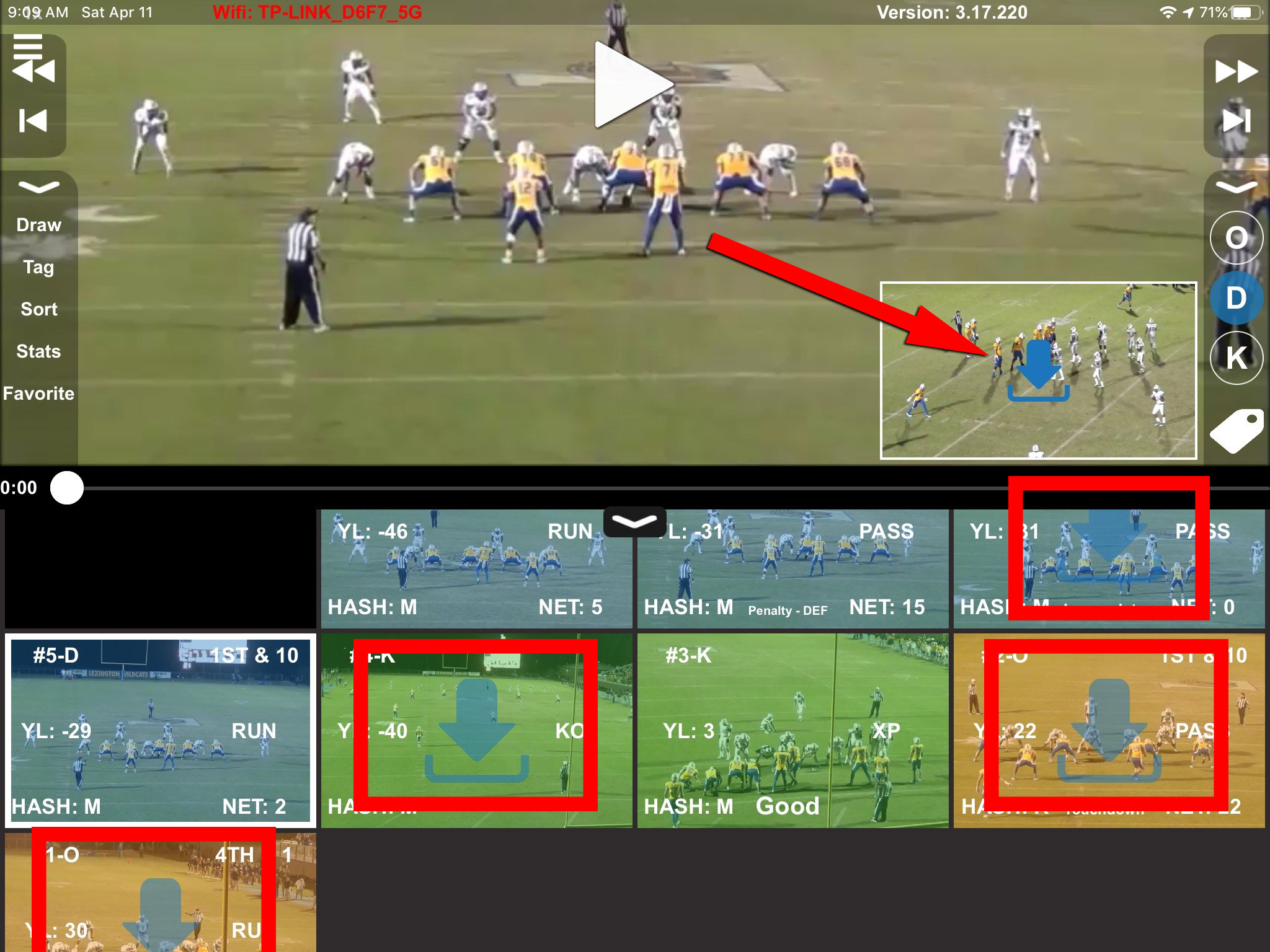 Be sure to review the game you'd like to upload for Blue Download Arrows on the iPad you're going to Upload from.
These arrows indicate a play that hasn't been downloaded to this iPad. If a play of EITHER ANGLE has the blue download arrow it WILL NOT upload.
Any plays with the arrow likely still exists on your Blue Endzone Pan/Tilt Head and/or your Orange EDGE Box(es).
You MUST download these plays on to the iPad before uploading.
We recommend completing this step at the end of a game while the equipment is already set up and still running:

Simply scroll through all the clips and tap the arrow for any plays that haven't downloaded. It should download quickly and the arrow will disappear. If you have more than one angle MAKE SURE TO SWITCH TO THE OTHER ANGLE and repeat.
If the equipment is no longer running you can be set up in a condensed setup to download these missing plays more easily: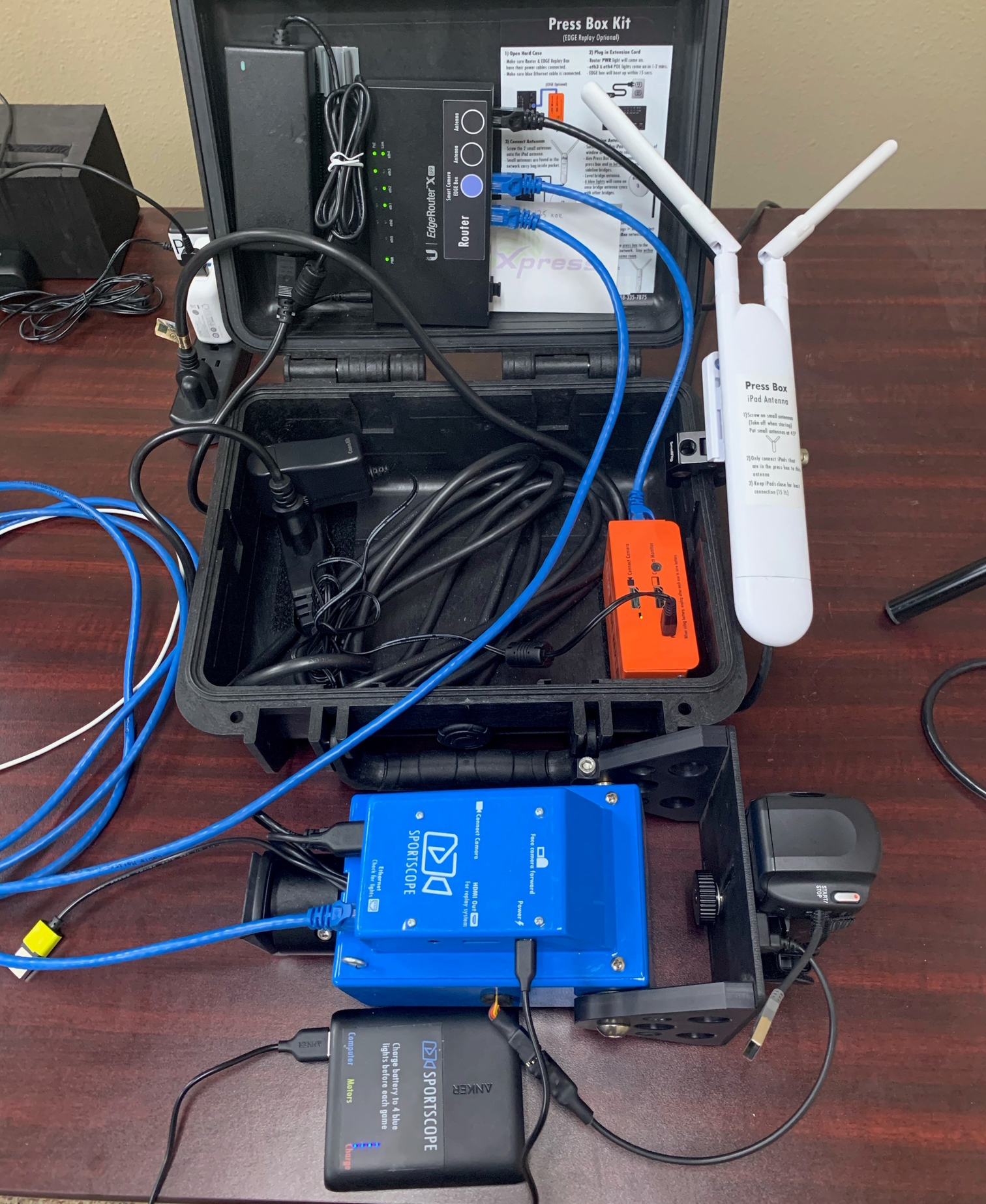 Part 2: Share the Game from the Sport Scope App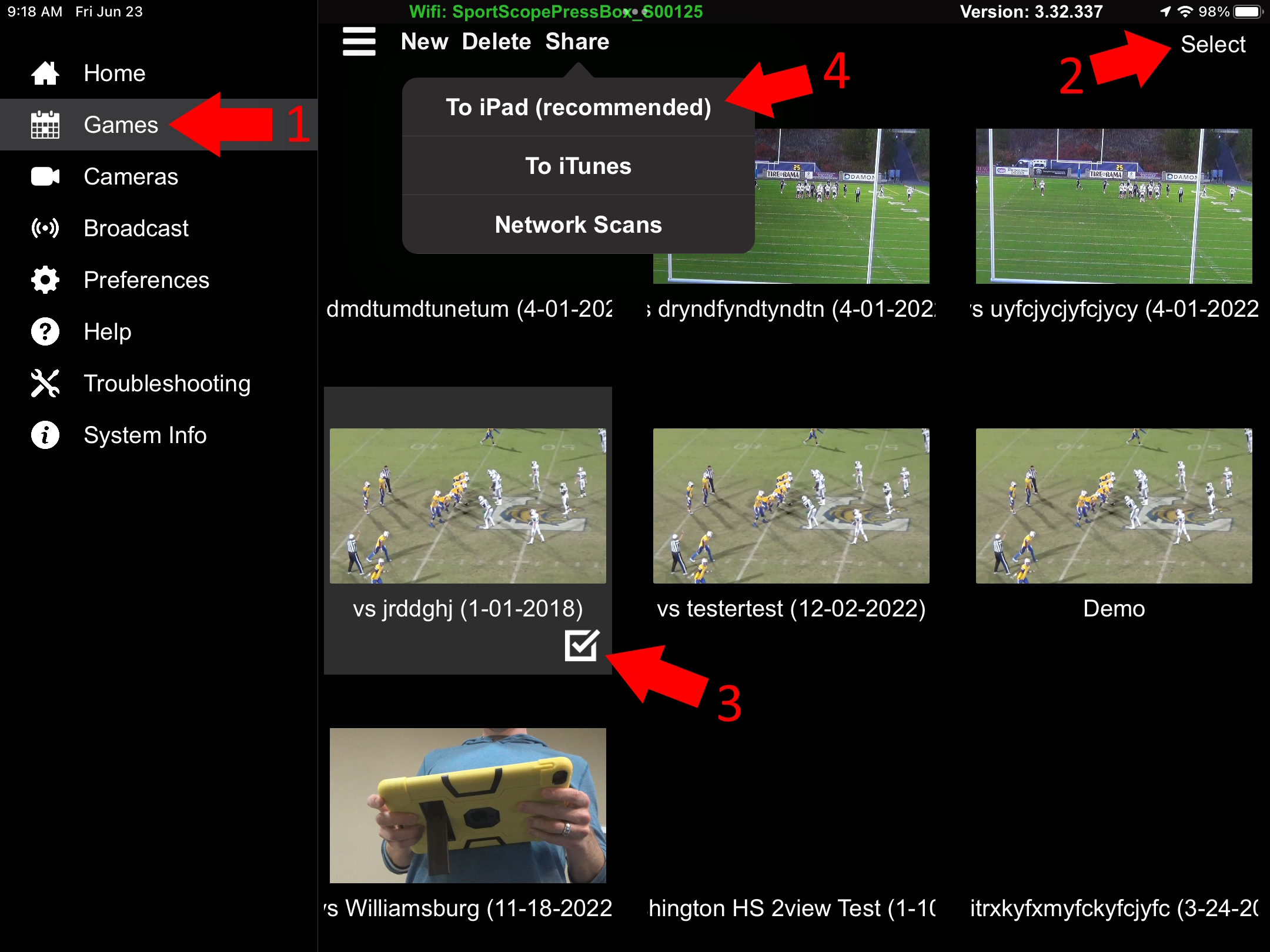 Once you know you have the full game downloaded:
Go to the Games page of the Sport Scope App and
Hit the Select Button in the top right.
Then, select any and all games you'd like to export.
Finally, tap Share and then To iPad, and when the popup appears:
Confirm and hit "Open" to save the game into your Files App.
Part 3: Uploading to Hudl
Close the Sport Scope App, ensure you have an internet connection:
Open your browser (such as Safari) and go to Hudl.com.
From there, Dismiss any popups and login.
And go to your Hudl account.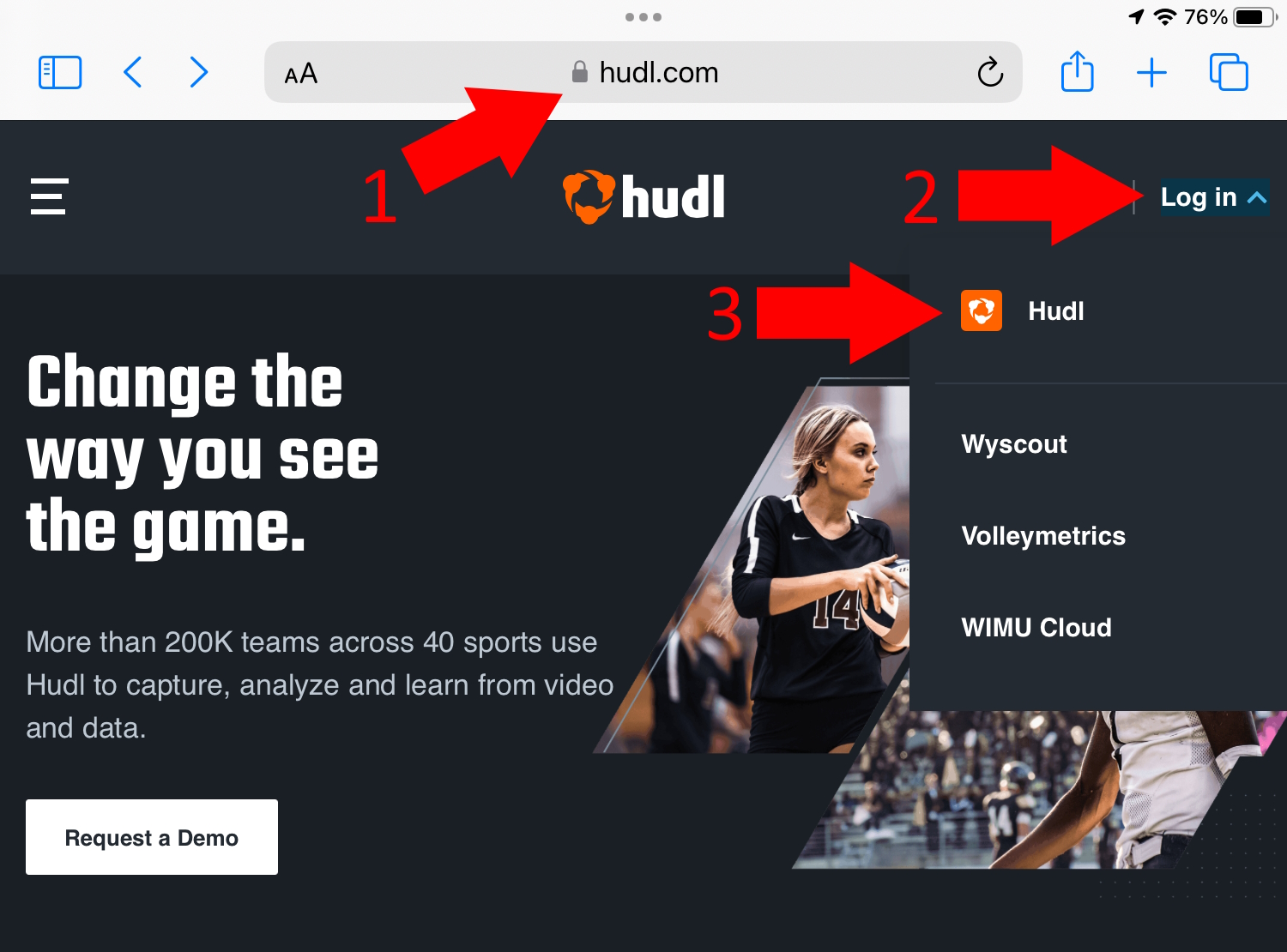 Next,
Tap on Upload.
Organize the Team as you see fit, tap Select Files,
Then Choose Files.
Now that you're browsing your files,
Tap On My iPad,
Select the Sport Scope folder, and then into the game you'd like to upload. If your game has multiple angles, simply select one of them, and we'll come back for the other(s).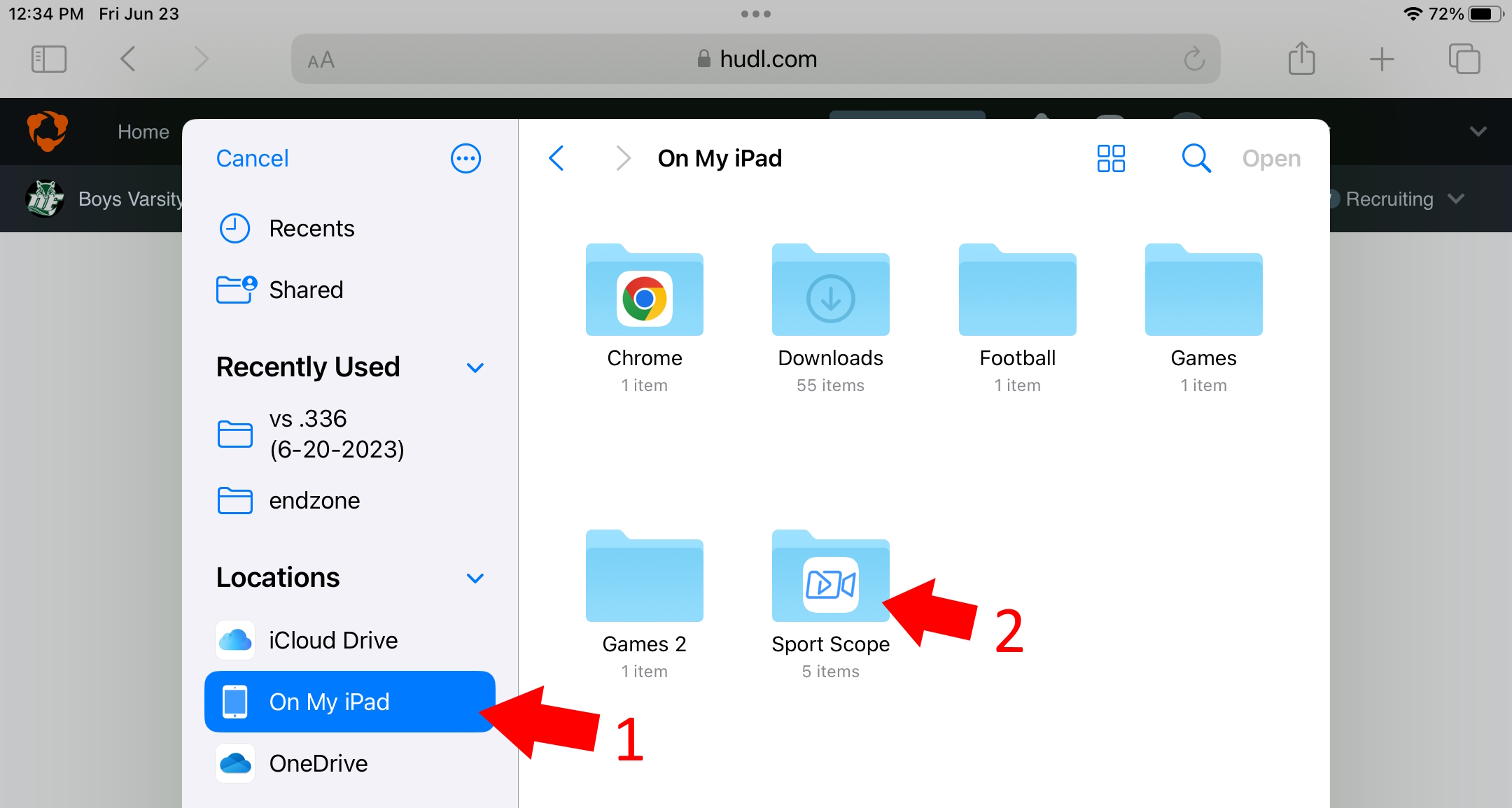 Once you're inside of one angle's folder,
In order to select all files you first have to select one of them,
Then the Select All button will appear in the bottom left.
Once you have all video files selected, tap Open. Next, there will be a screen with all of your uploaded clips. Simply scroll to the bottom and tap Upload.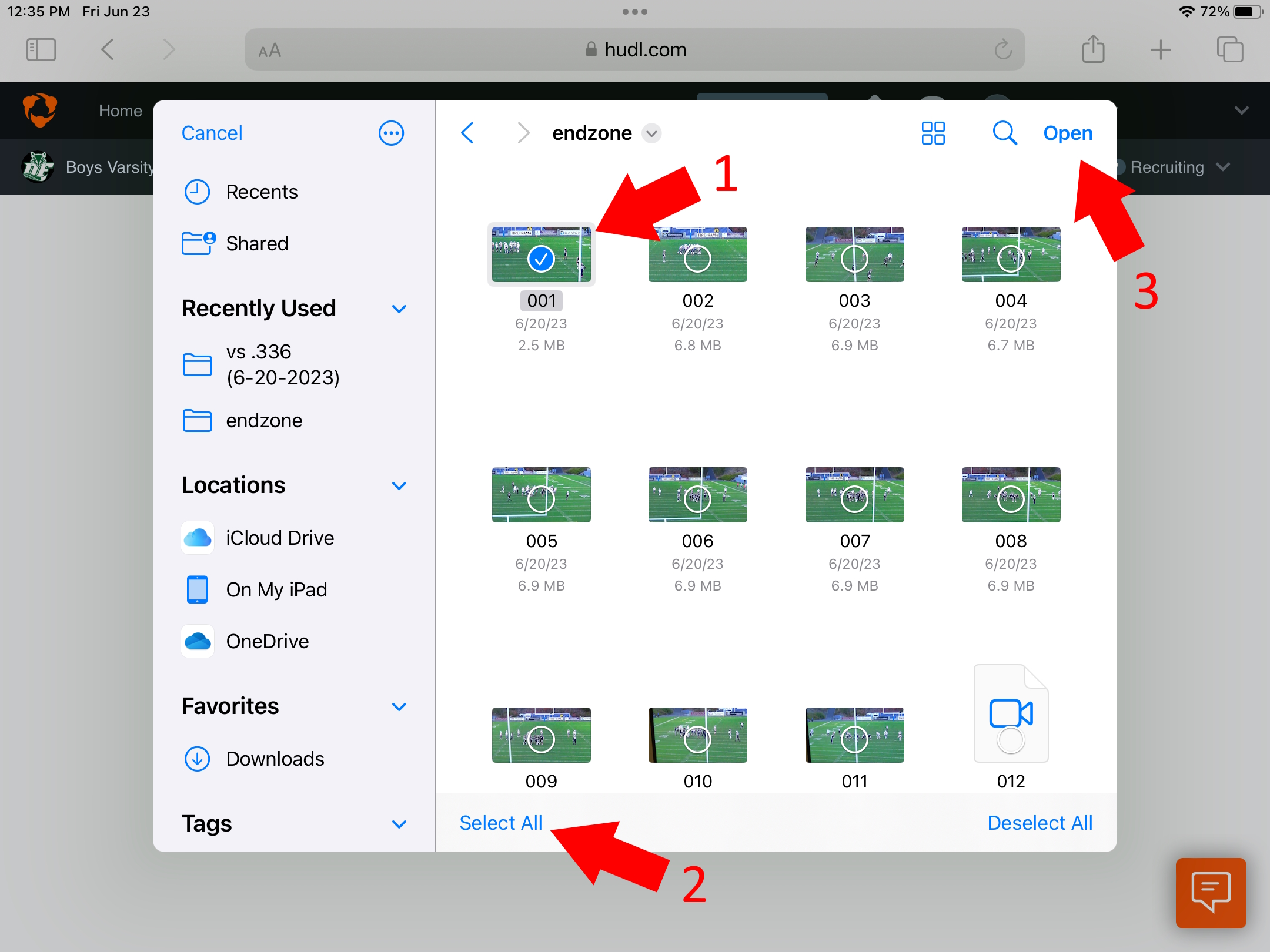 While that Upload is in progress, let's use the Video Details section to organize where this angle's clips will be saved.
Name it corresponding to the angle, and remember where you've saved it, as we'll need to find it again later.
Be sure to tap Save.
If you have another angle to upload, we're also going to tap on "Upload Another Angle" and complete the last few processes again in order to also upload another angle.
Pressing this button opens a new tab in your browser, so don't worry about letting the first angle finish.
If you have multiple angles, you'll need to Intercut them.
Once you have ALL of your angles at 100% uploaded and saved, Tap where it says Hudl on the top bar.
Navigate to where you saved your angles, and select all of them,
Tap on the three dots on the right side,
And then tap Intercut.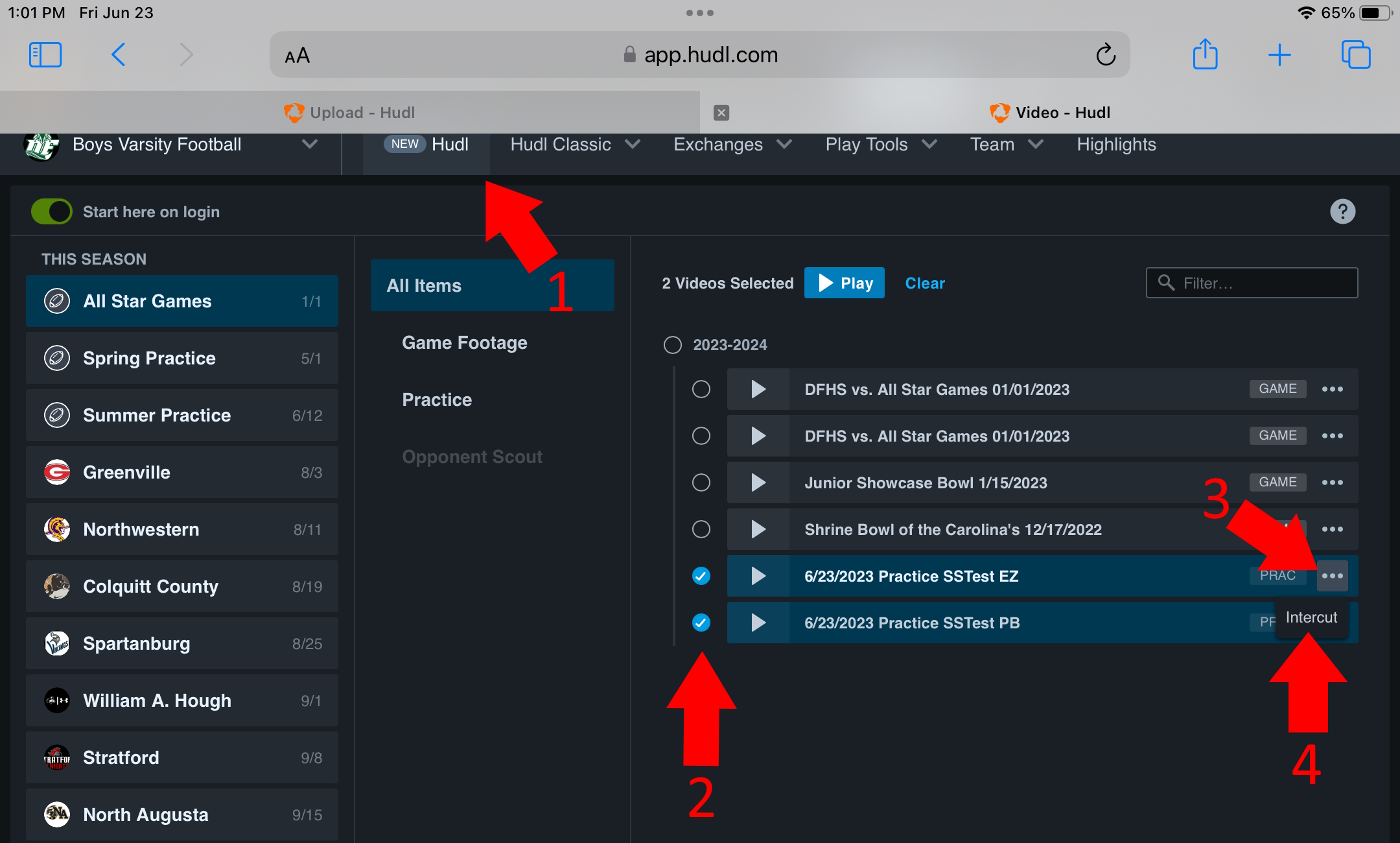 Finally, name the angles accordingly,
Sport Scope clips should already be the same length and synchronized, so no manual editing should have to be done. Simply tap on Save and you're good to go!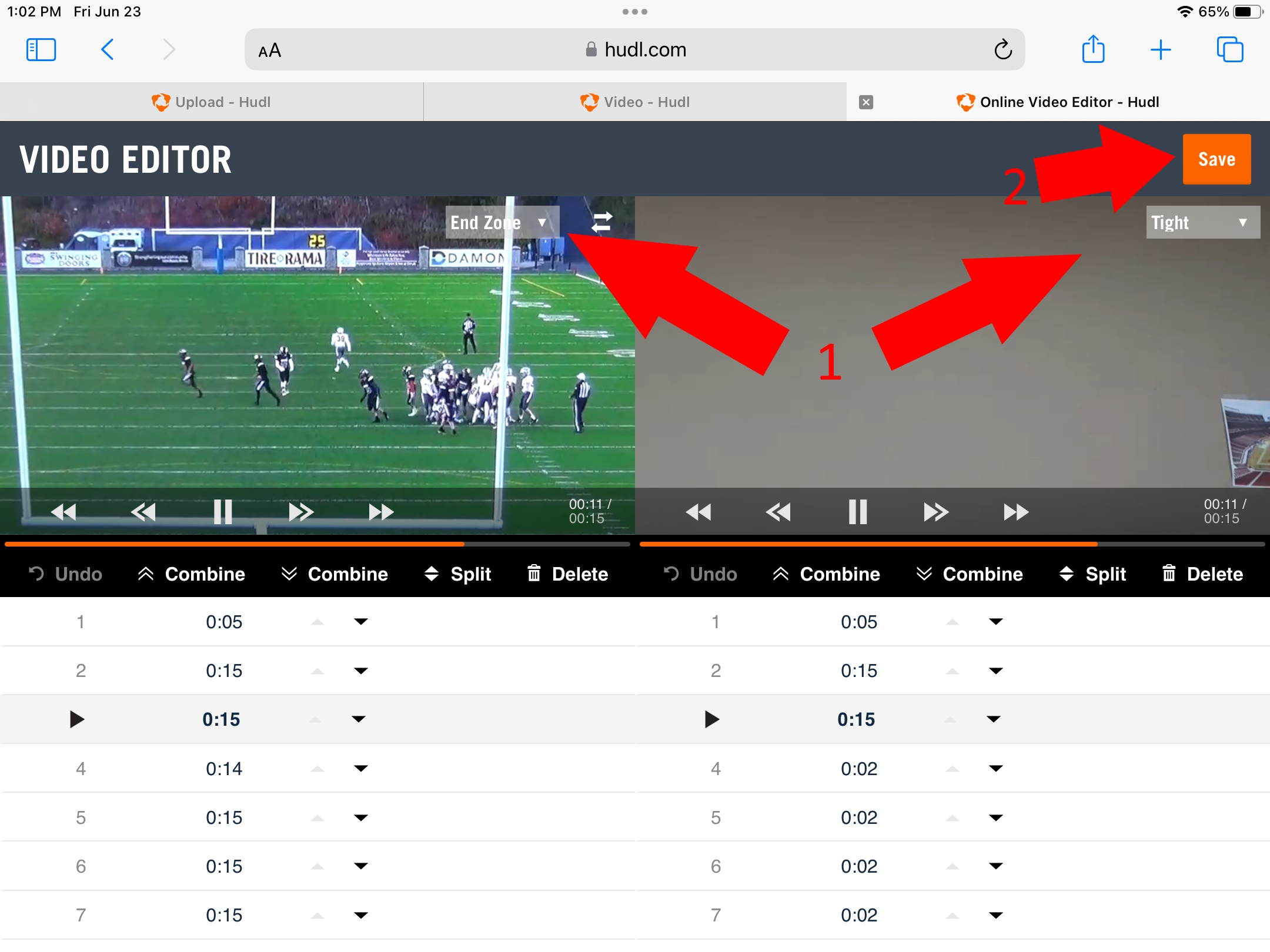 Part 4: Uploading ODK Data (optional)
If you use our tagging features, you'll need to know how to upload that into Hudl.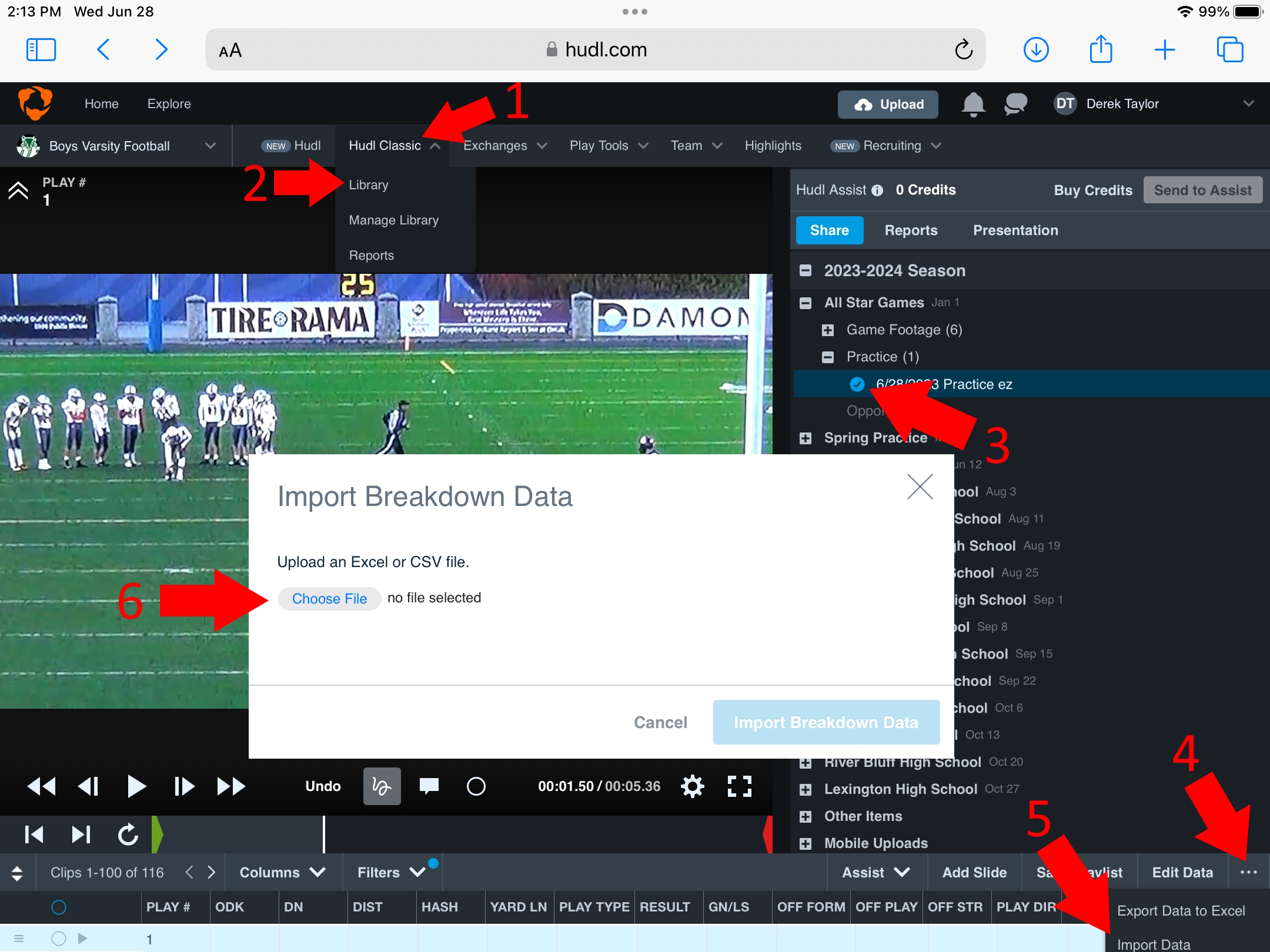 Go to Hudl Classic
Library
Select the game you just uploaded
Tap on the three dots in the bottom right corner
Select Import Data
Choose File
From there you'll navigate to the exact same game we went to before (most likely in On My iPad / Sport Scope) and select the ODK data sitting in the base game folder (not in the angle folders)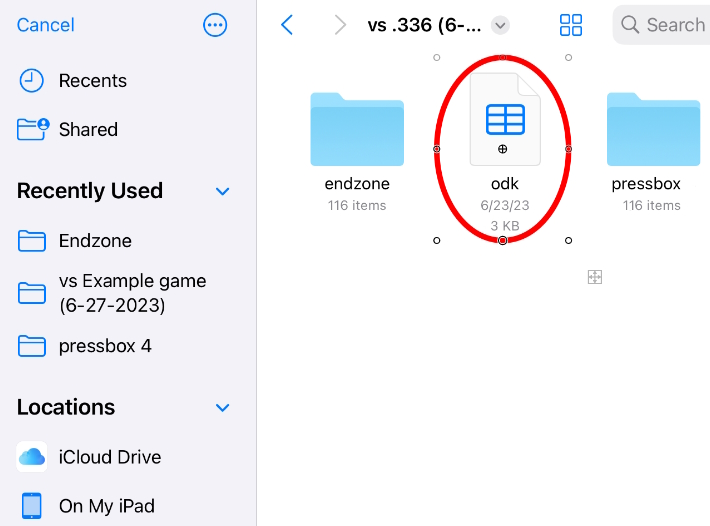 Finally, all of your data columns should automatically align with the ones that Hudl has natively.
But if one of them doesn't (specifically a custom tag if you use them) this is where you customize how it imports into Hudl.
Once you tap "Import Data into Hudl" you should be good to go!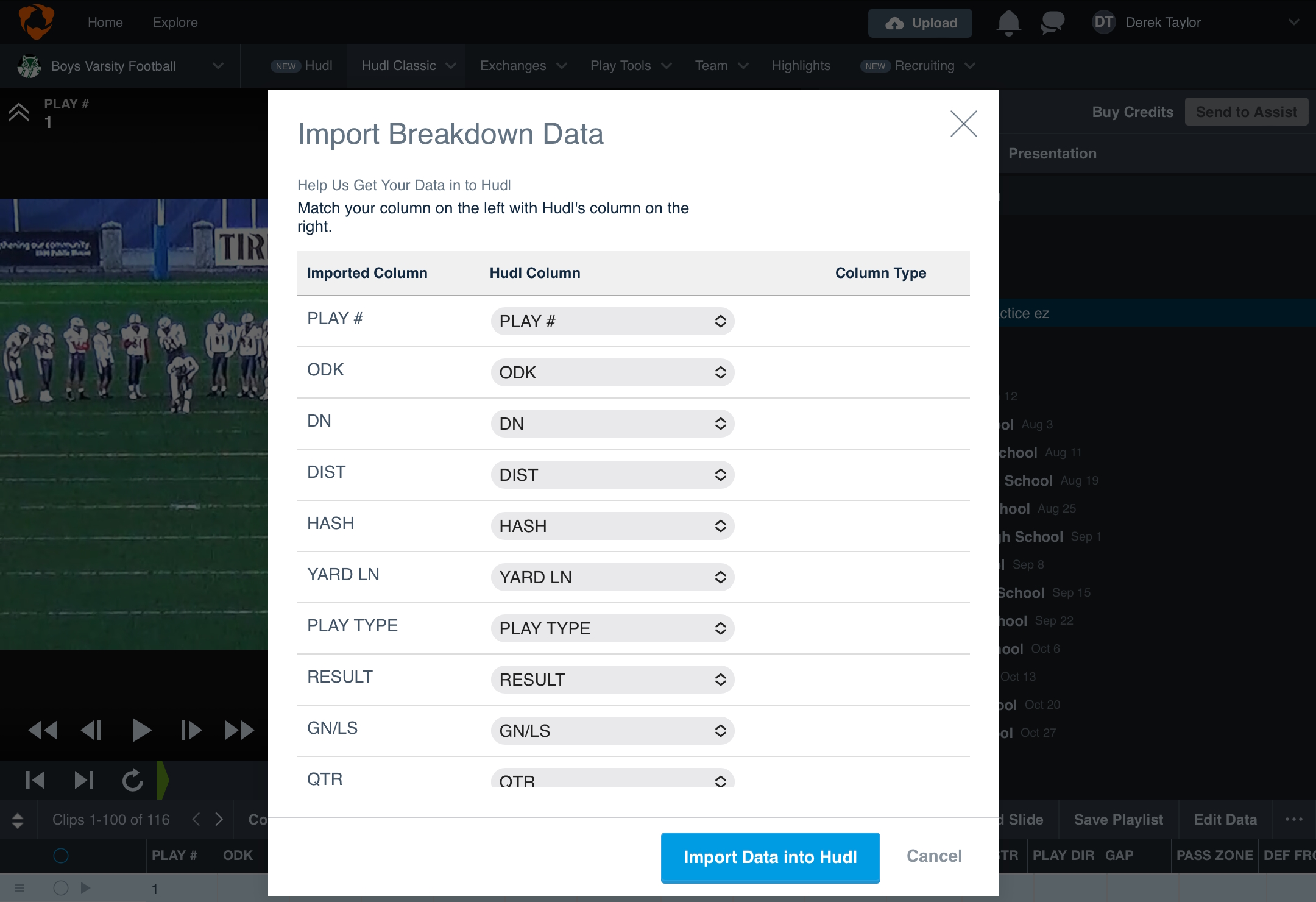 Video Instructions: