This article will detail our Draw, Tag, Sort, Stats, Favorite, ODK, and In-Depth Tagging app features.
The Sport Scope app is filled with useful tools that will help you turn your replays into detailed analyses of your Game.
---
Start on the Home Page
For our full walkthrough of the home page, please see our "How to use the Home Screen" article.
On the lefthand side near the bottom there is an arrow.
If you open that menu, you can see Draw, Tag, Sort, Stats, and Favorites.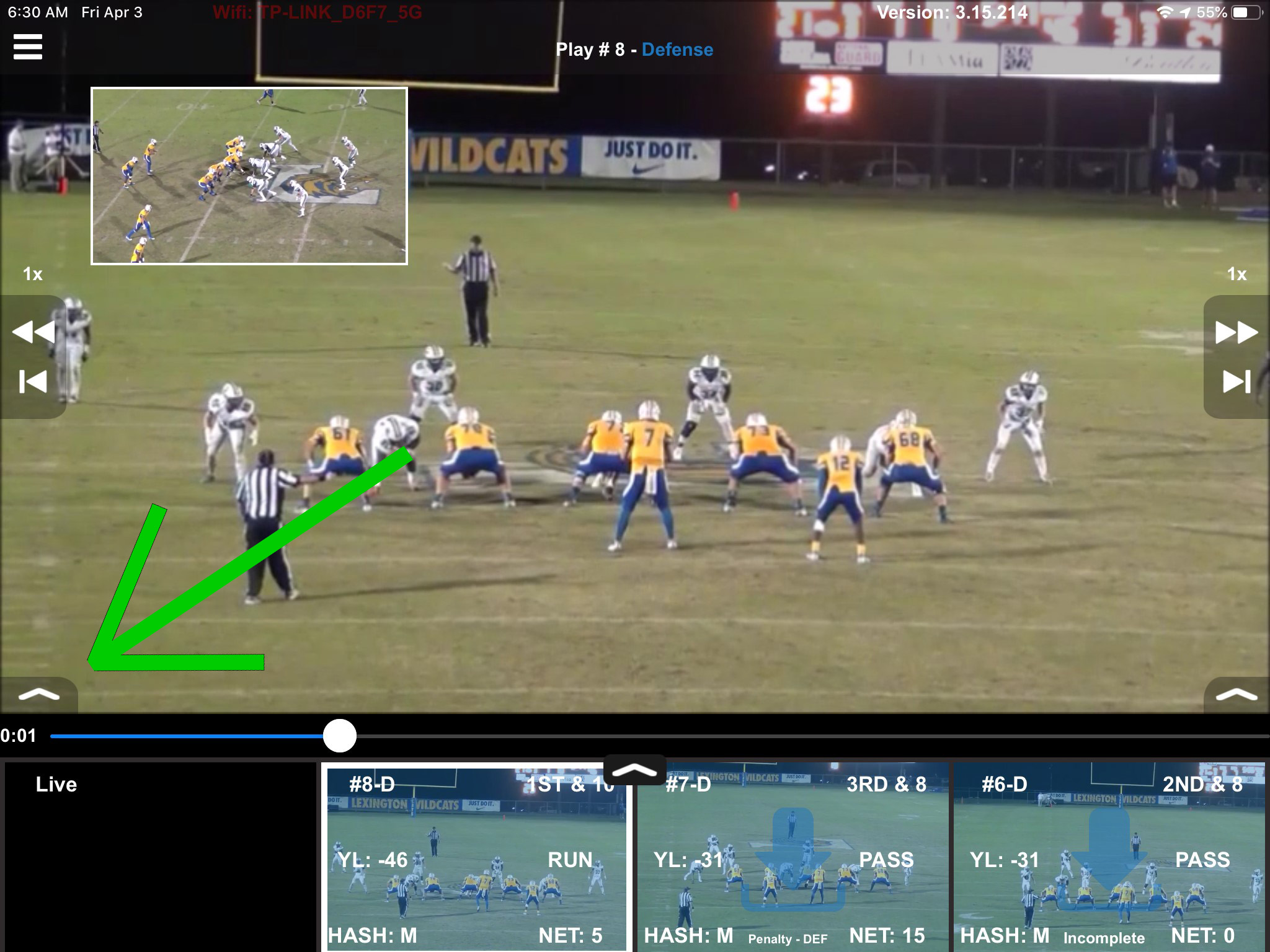 ---
Draw:
With the Draw function, you can draw over clips with 3 different colors: Blue, Red, and Yellow.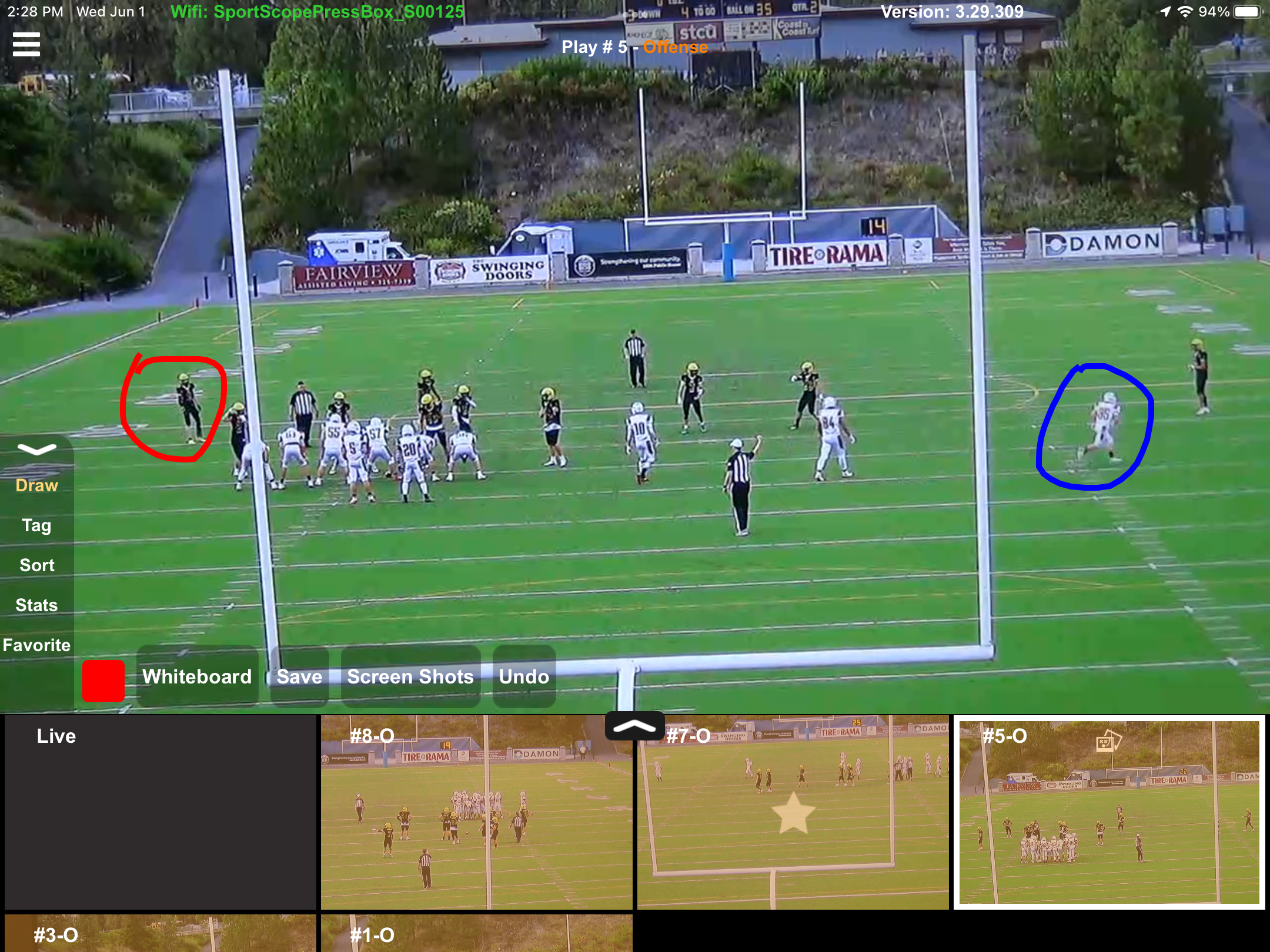 Mark the clip how you want and then press save. This'll save the drawing to that clip for later review. You can also press whiteboard to bring up a blank white screen to draw on.
Just like the other feature, you can save it to the clip.
A watermark icon will appear at the top of the clip at the bottom of the screen showing that the clip has a drawing saved to it.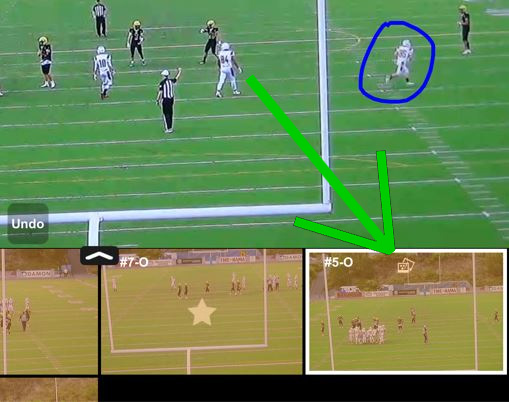 Pressing the undo button undoes the last thing that was drawn.
To view drawings after you've saved them, select the clip, tap on draw, then screen shots, and select the drawing you want to view.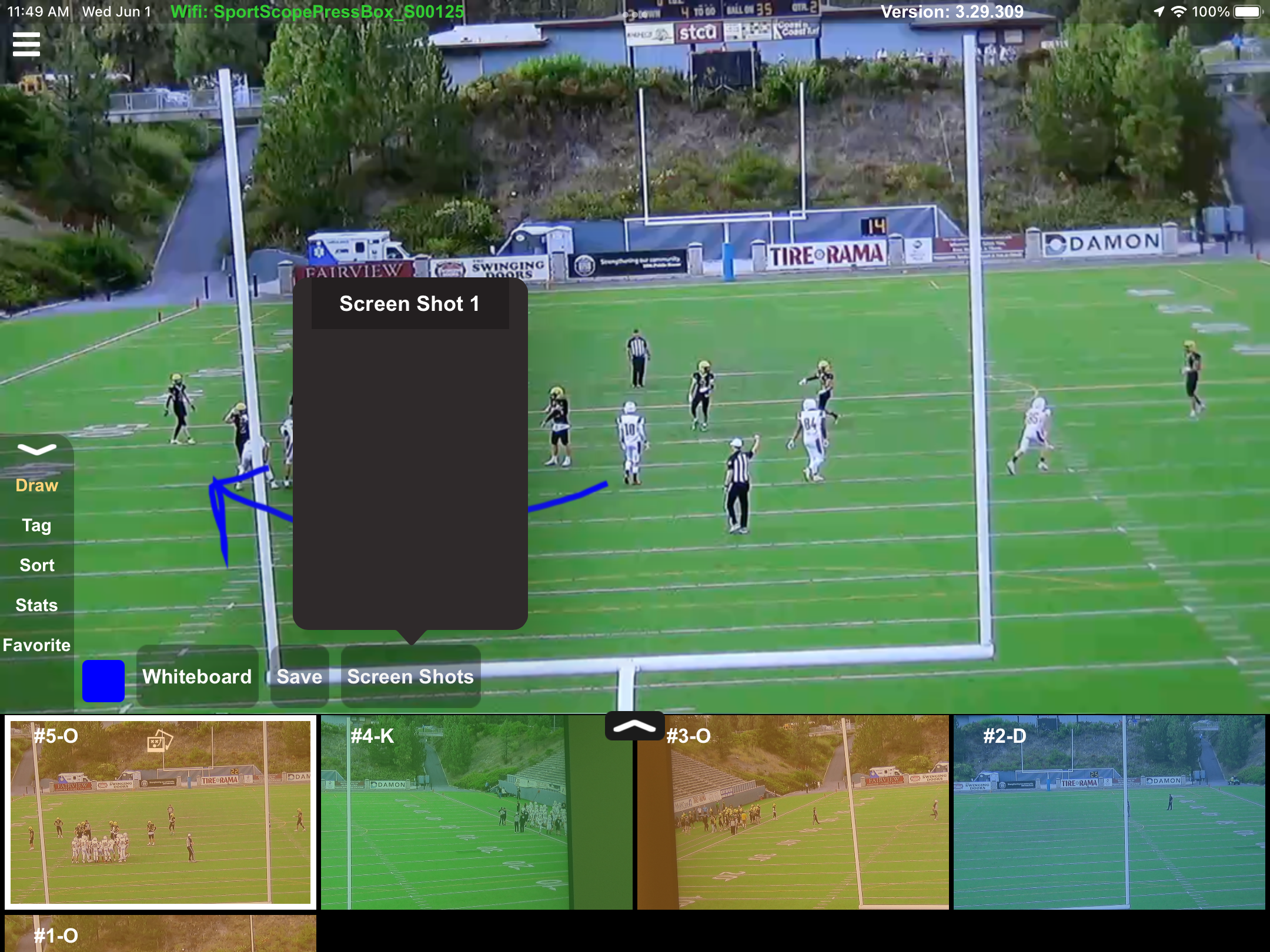 This automatically gets shared to all iPads on the network so a coach can draw on a play, and another coach can go to that same play on his iPad and view the screenshot.
---
Tag:
Next is the Tag function. Tagging is how you make custom tags for clips, which can be applied to whichever clip you currently have selected.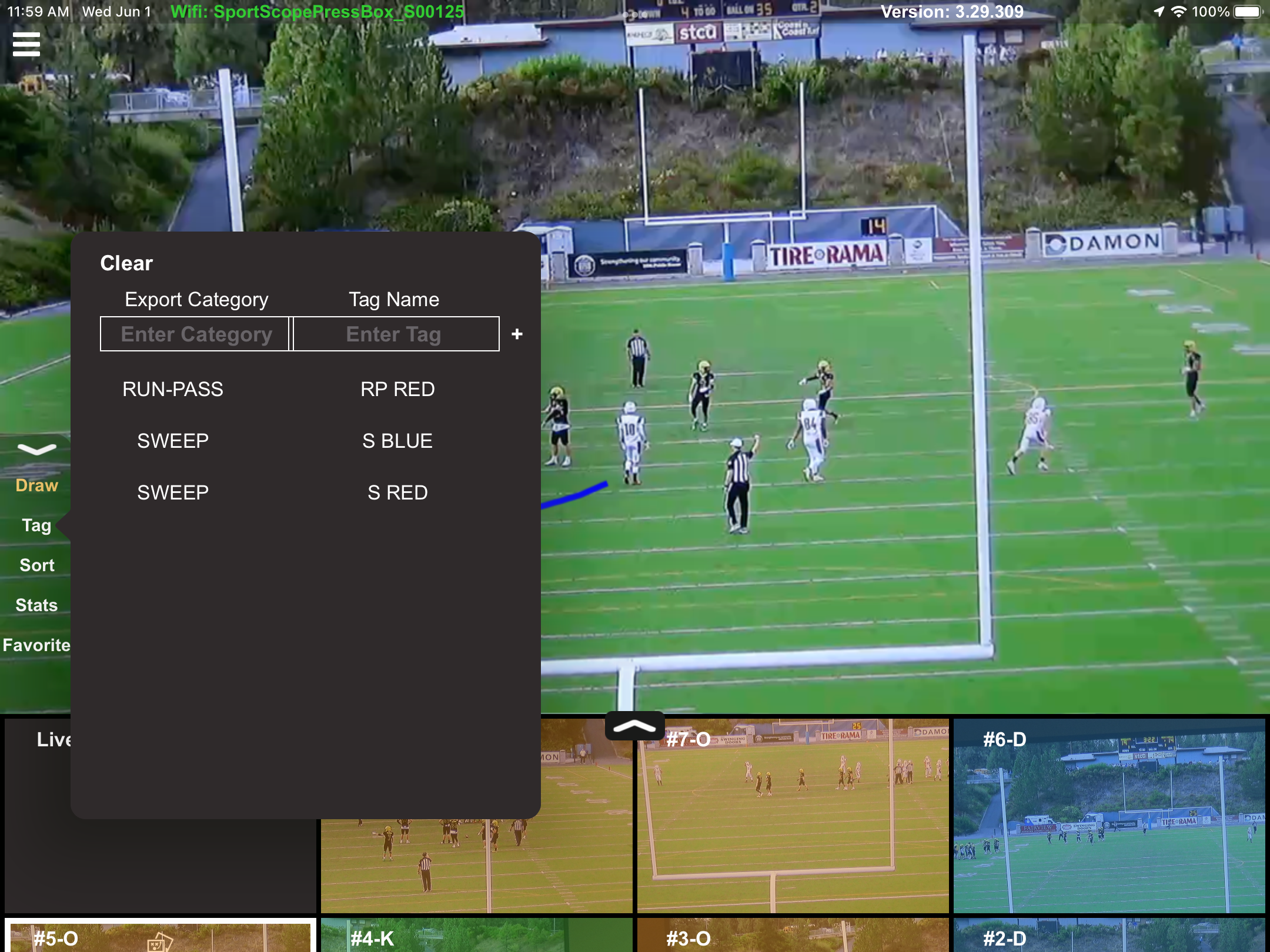 You must provide the Tag Name, but the Export Category is optional.
The Export Category is an option that allows you to provide a category name that you can use once your ODK data is exported off of the app and onto your computer in a CSV file, so that you can sort tags by category later.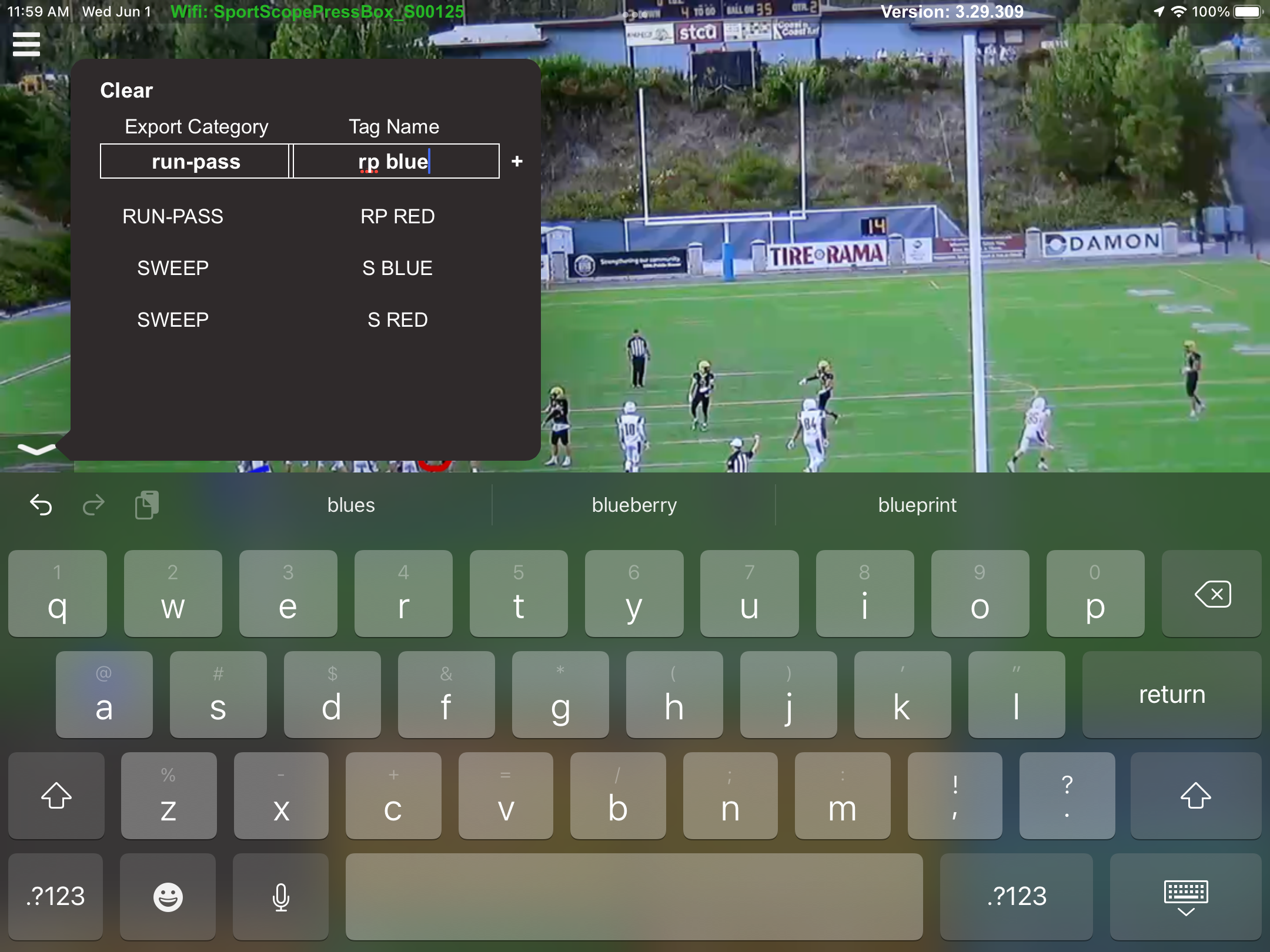 To take advantage of this option you'll need to match the category name exactly for each unique tag within that category.
The tag name must always be unique. You cannot have any tag names identical to one another or they'll get overwritten. The tag name will also be sortable once it is applied to a clip.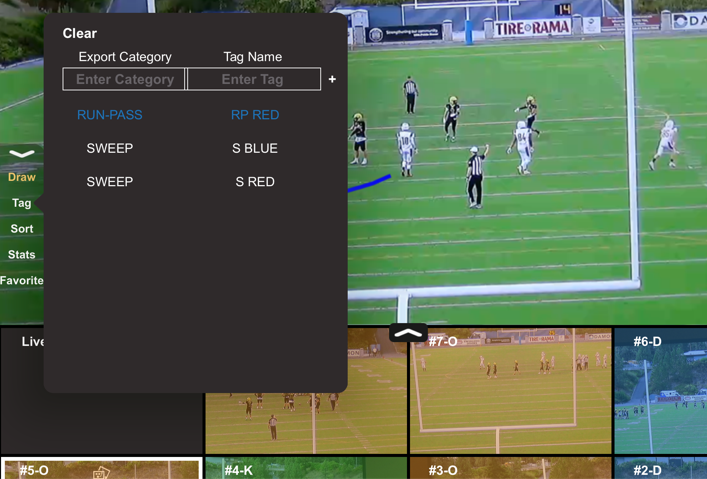 The custom tag is applied to the highlighted play when it is tapped. The selected tag will turn blue. You can remove the tag by tapping it again and the text will go back to white.
---
Sort:
The Sort function is a way to filter clips that meet certain criteria.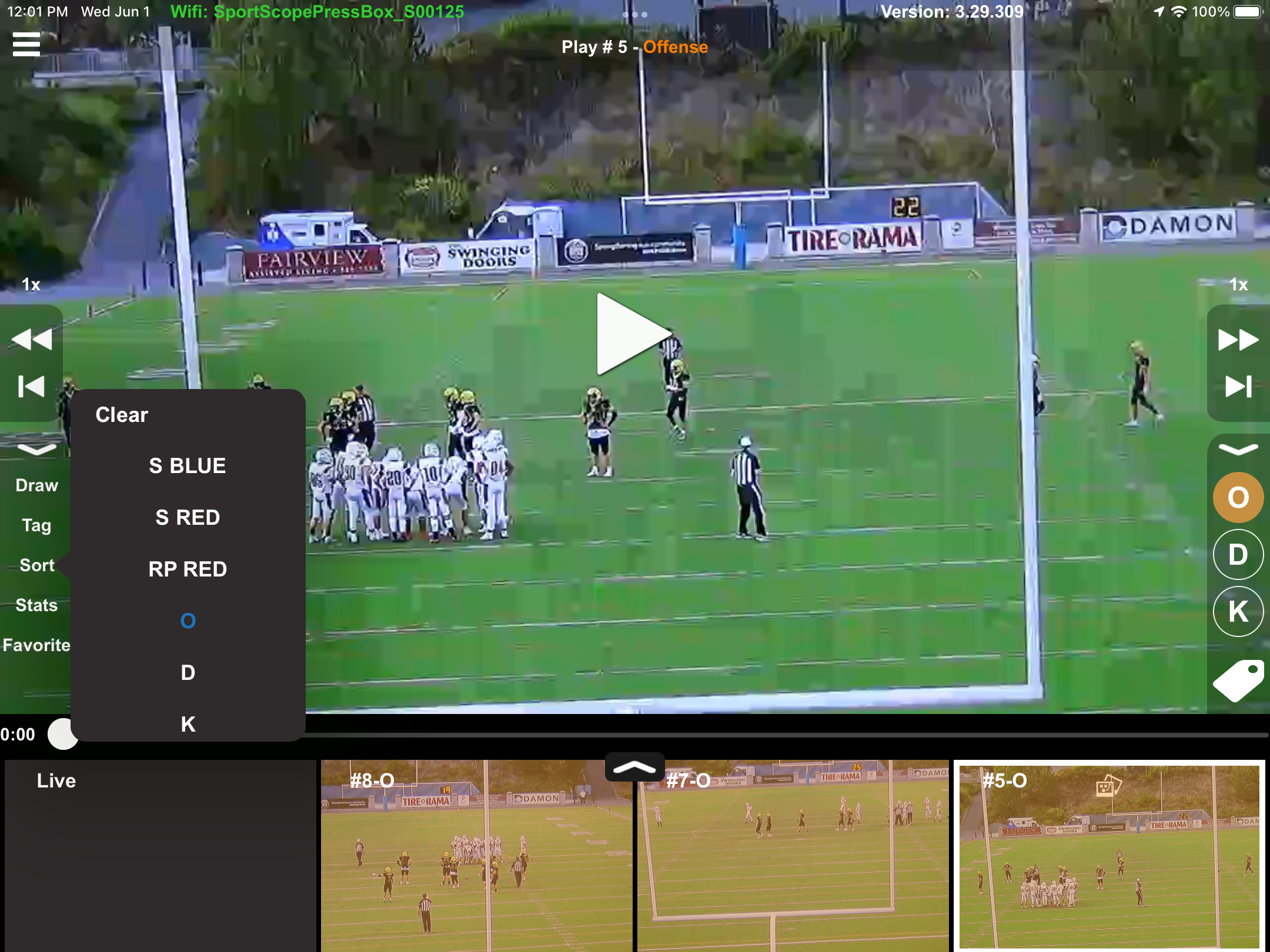 Note that sorting by multiple criteria attributes is exclusive, not inclusive, meaning that if you sort by multiple attributes, only clips that possess ALL attributes will appear.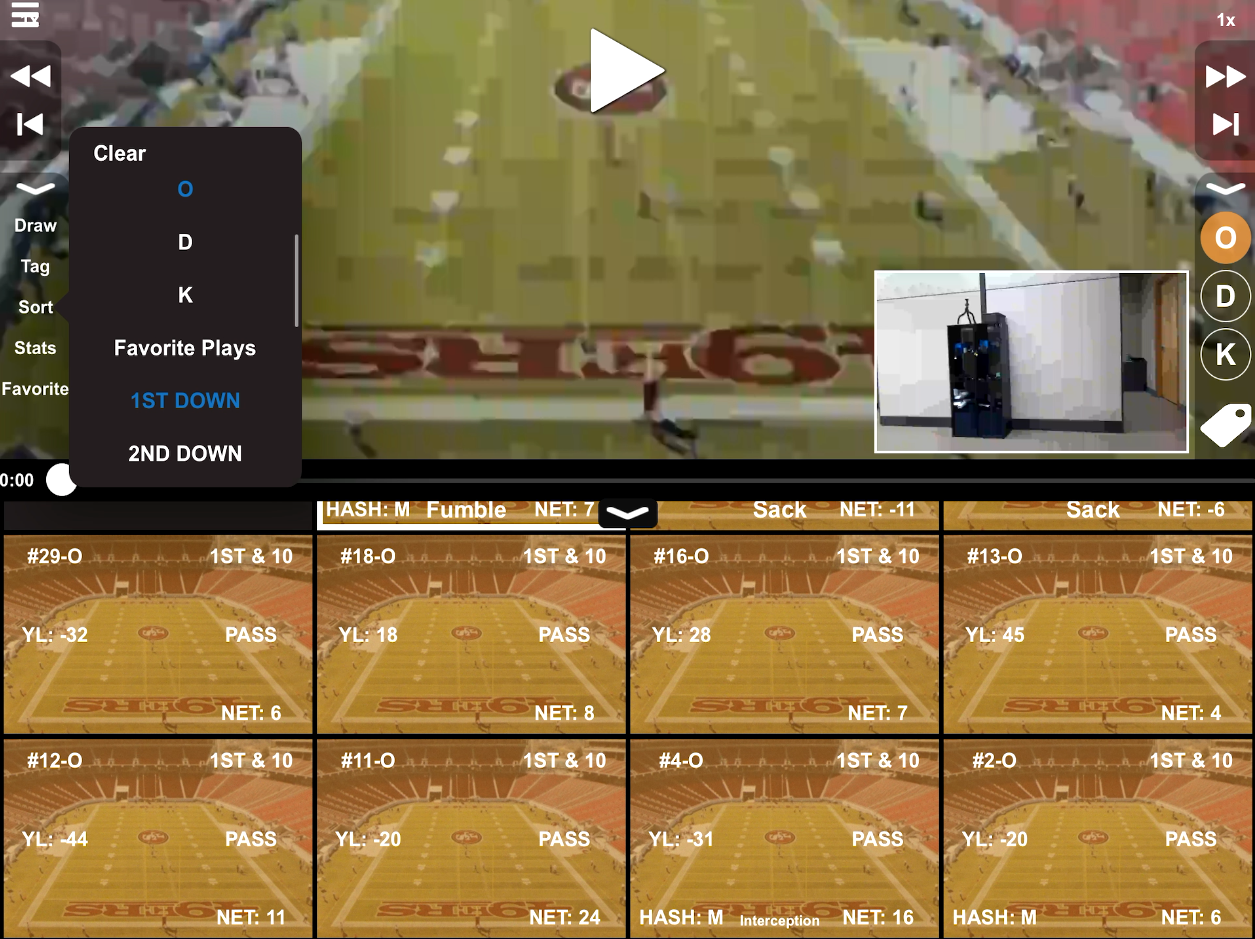 For example, if you sort by Offense and First Down, it'll show only the clips that are both first downs AND offense.
If you sort by offense and defense, no clips will appear because it is not possible to have a play that is both offense and defense at the same time.
You can also sort by your favorite plays and any custom tags you've created.
---
Stats:
If you've been using our in-depth tagging features, the Stats Page is a great place to view the culmination of all recorded play statistics.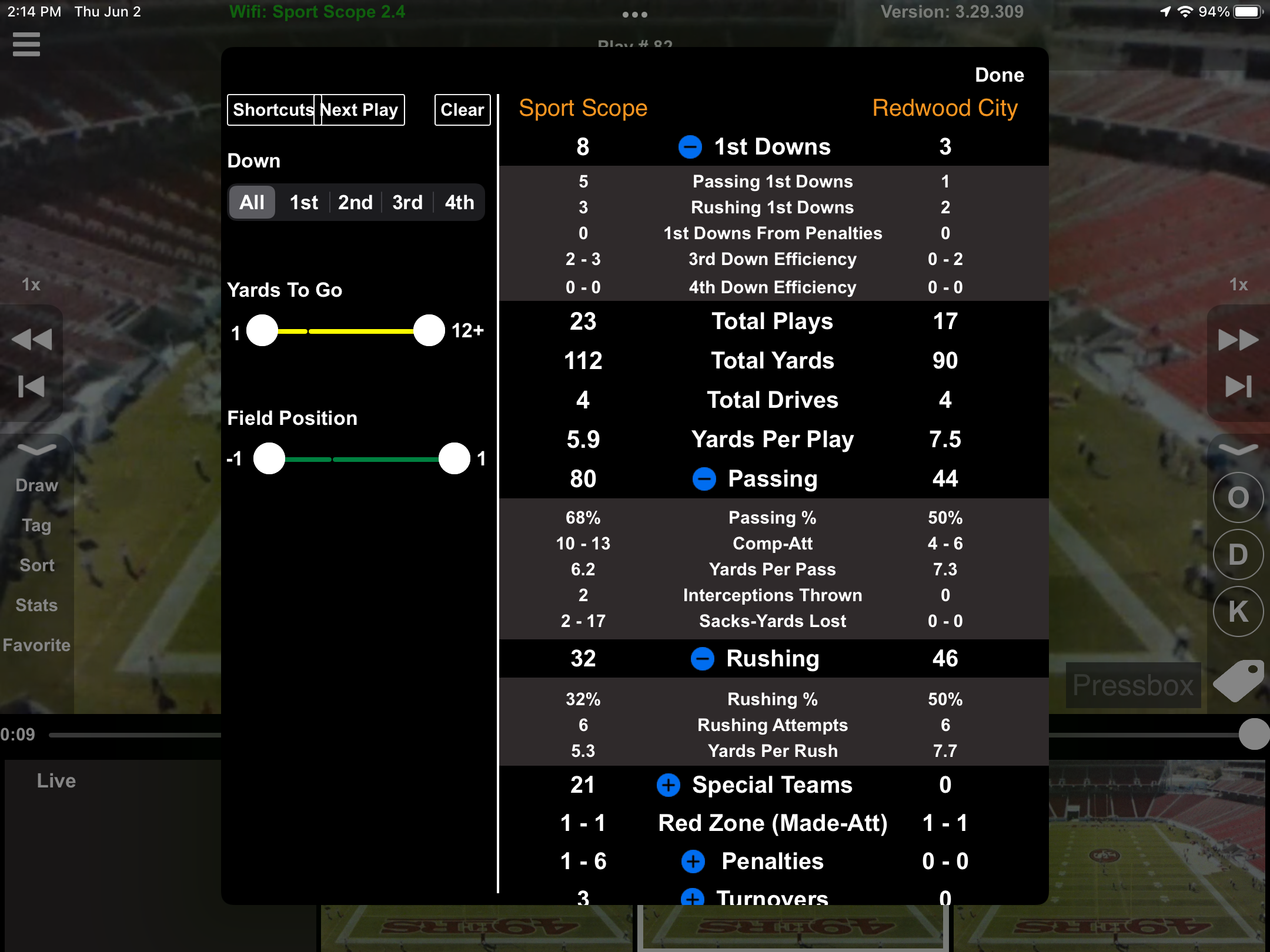 The righthand side shows the stats for each team in each category.
On the lefthand side you'll have the ability to filter the stats by certain criteria.

Let's look at a simpler example to understand how the filtering works and how you can use this to predict your opponent's play tendencies: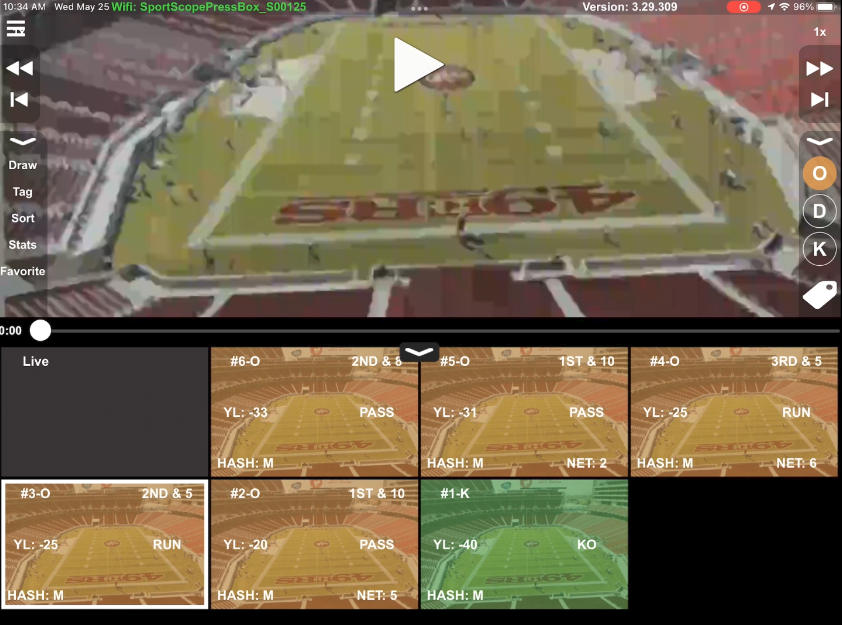 In the above short example there are 6 plays (Kickoff and the first series of a game).
There are two plays on 1st and ten, one on second and 5, one on third and 5, and one on second and 8.
If we go into Stats on the left and filter by 2nd down, you can see under Example Team that there are two plays matching that description.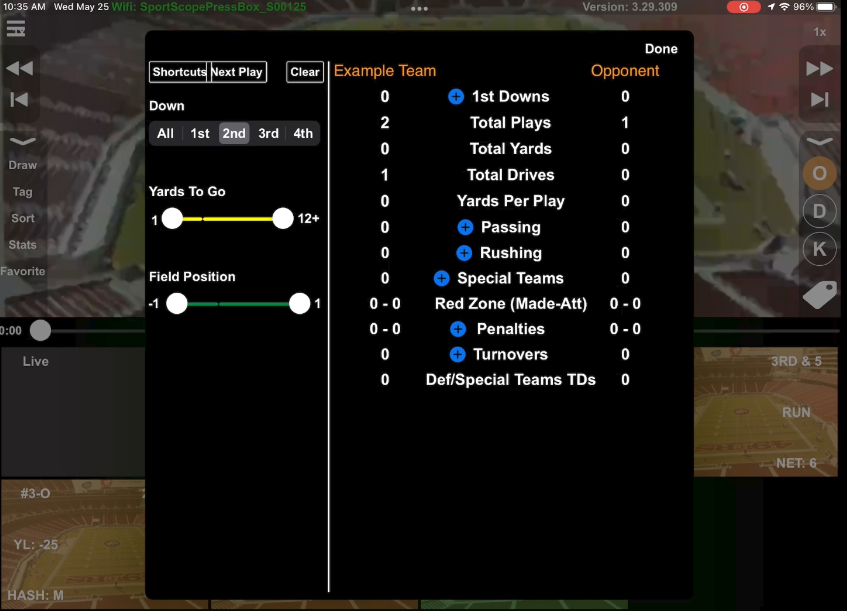 If we narrow down the criteria even further to filter plays to both 2nd down AND with yards-to-go between 4 and 7, you can see it filter down to 1 total play.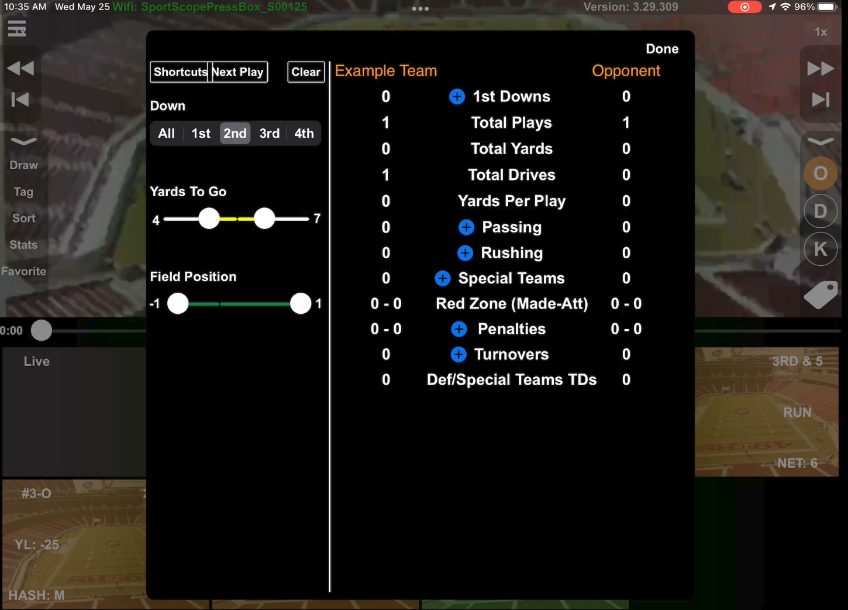 In an actual game, these stats on the right side would have more information (as seen in the first stats screenshot above), such as Total Yards, Passing, and Rushing.
While you CAN filter manually, you'll usually be using preset shortcuts or tapping "next play" which automatically filters by down-and-distance & field position for the next play in the game.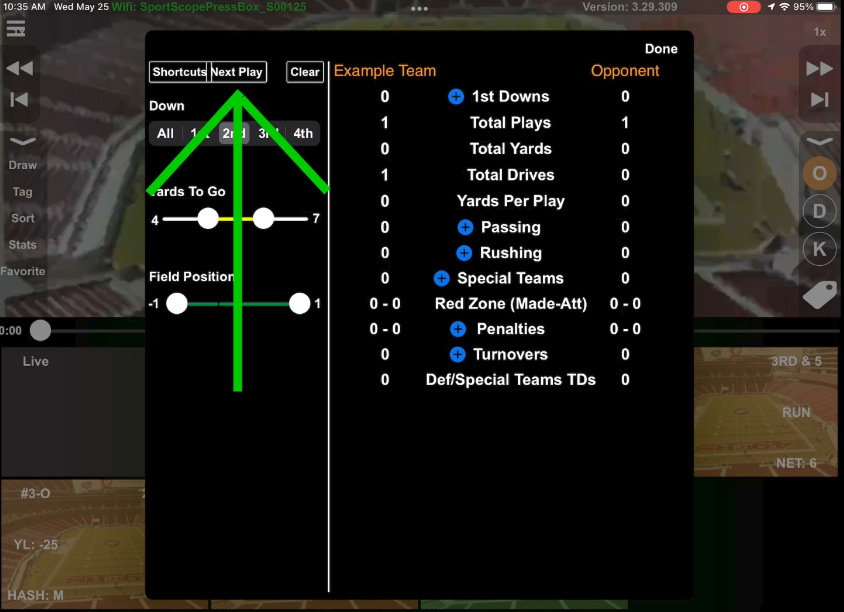 This is an extremely useful tool for seeing your opponent's tendencies and maybe even predicting what their next move will be, allowing you to adjust your play accordingly.
---
Favorite:
The Favorite function is a great way to mark a play that you want to focus on later, either for review or just to show off a particularly great play.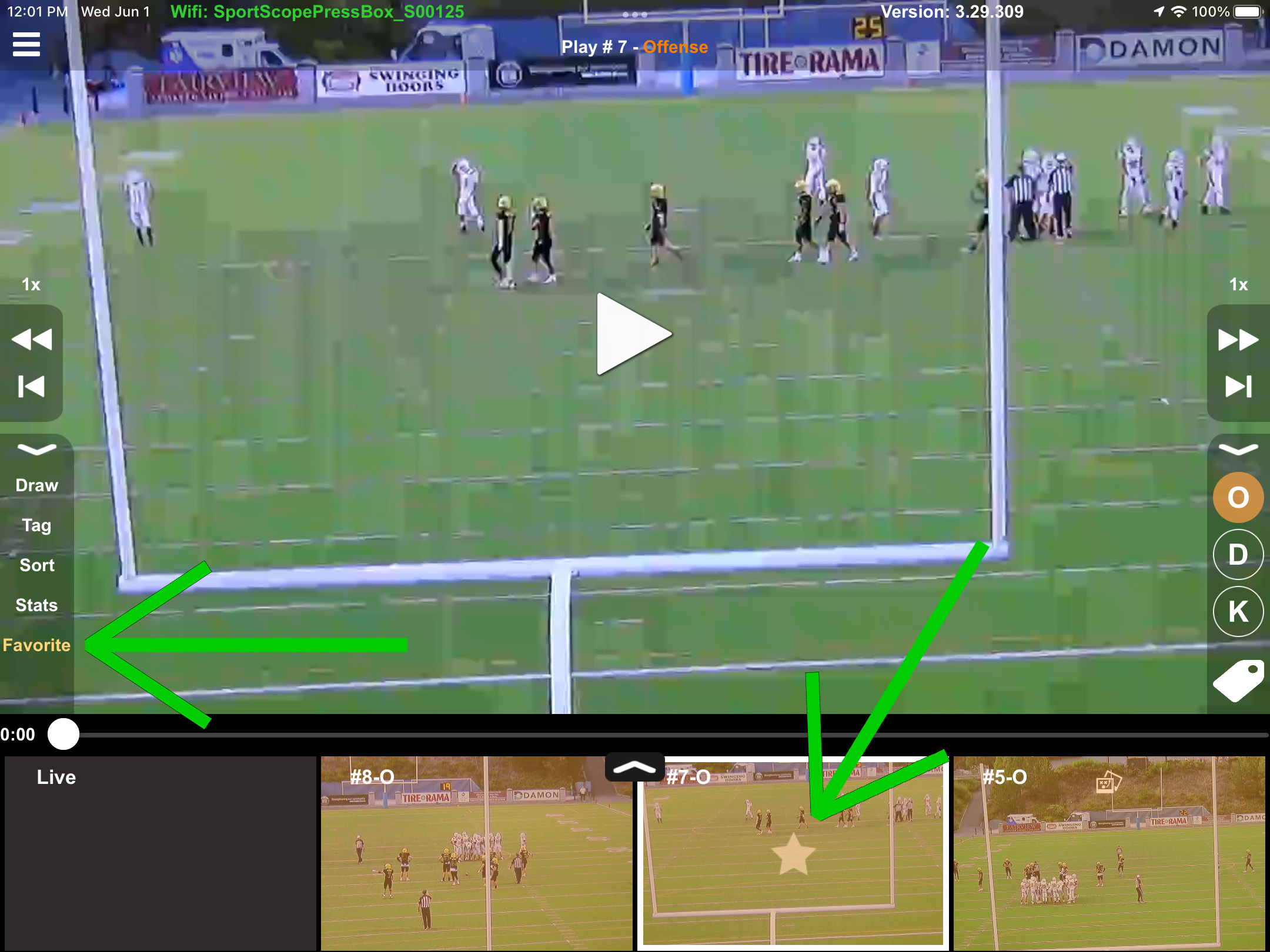 A favorited play will have a star that appears on the clip at the bottom of the page and is easily sortable from the Sort menu.
---
ODK & In-Depth Tagging:
On the righthand side of the screen there are ODK buttons, and a tag button.

The ODK buttons are additional quick-access buttons so that you can easily tag the play you are viewing as offense, defense, or kicking as needed.
The tag icon opens up the in-depth tagging menu.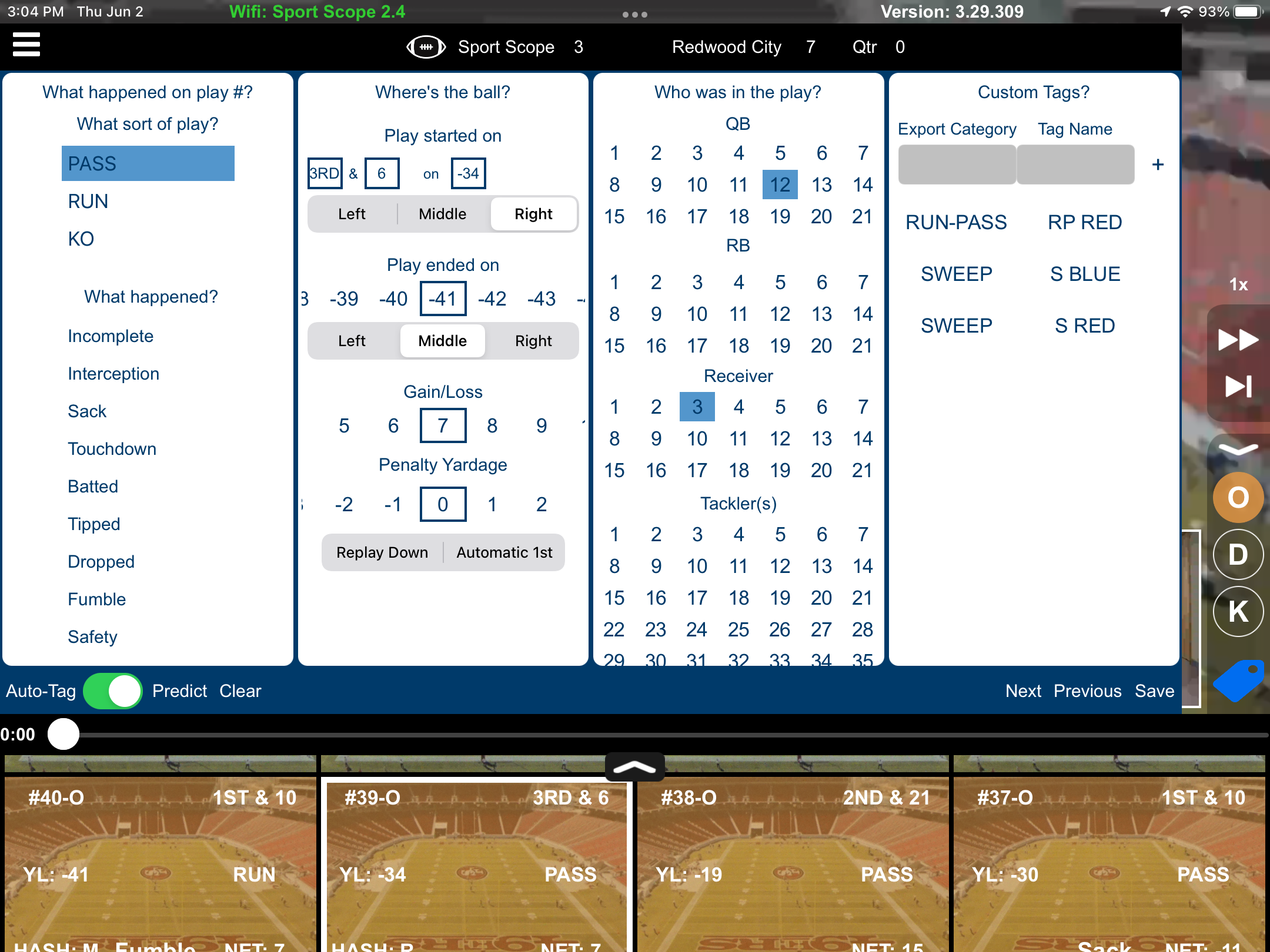 For a full walkthrough of in-depth tagging by down, distance, field position, auto-tagging, etc. please see our "How to Tag a Game" help center article which has its own video walkthrough.
To leave the tagging menu, tap the tag icon again.